Paramhansa Yogananda (1893-1952) is a world-renowned spiritual teacher and author of the spiritual classic Autobiography of a Yogi.
Yogananda transcended cultural, social, and religious boundaries. In 1927, he received an unprecedented invitation to the White House, where he was received by President Calvin Coolidge. In 1936, Mahatma Gandhi asked Yogananda to initiate him into Kriya Yoga, the highest technique on Yogananda's path of Self-realization.
He emphasized the direct inner experience of God, which he called "Self-realization." His teachings are nonsectarian and offer a practical approach to spiritual awakening. To read more about our lineage of spiritual masters, see The Ananda Line of Gurus.
Autobiography of a Yogi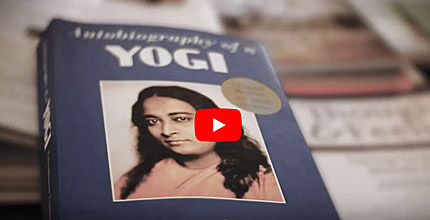 Celebrating Paramhansa Yogananda: His life in the United States and the worldwide influence of his book Autobiography of a Yogi
Autobiography of a Yogi is a first-hand account of the life experiences of Paramhansa Yogananda. It is known as one of the best-selling spiritual classics of all time, read by millions of people all over the world, and recognized universally by varying religious traditions as a beautiful depiction of the spiritual path.
It is a treasured collection of stories, humor, and practical and scientific explanations of the great yoga wisdom of the East. Voted one of the 100 best spiritual books of the 20th century. Start reading now online for free.
Yogananda came to the United States from India in 1920 to share the teachings and techniques of yoga with the West
Ananda Sangha Worldwide celebrated this 100th Anniversary with many special events across the globe, in centers, meditation groups, and our intentional communities. The largest of these, Ananda Village in Northern California, holds an annual Spiritual Renewal Week in June and this year the focus will be the 100th Anniversary.
Yogananda's teachings are practical and multi-faceted and are the foundation for all of our Expanding Light Retreat programs.
Quotes from Yogananda
I Baptize Myself in the Waters of my Tears of Love –
Through long, winding pathways of self-doubt, fording mighty rivers that separated Thee from me, trudging over endless wastes of barren lives, tossing dangerously on the rapids of many ambitions, arduously climbing steep mountain trails of desire, and carefully extricating myself from whirlpools of alternating sadness and hilarity – at last I have reached my journey's end. I look upon all those past travails with joy. Every struggle, every past agony, has produced a flowing spring of joyous, grateful tears. In the sacred waters of those tears, I baptize myself daily with deep love for Thee.
From Whispers from Eternity.