"By the practice of meditation, you will find that you are carrying within your heart a portable paradise."
Daily meditation raises the quality of your life by helping you relax and calm the body, mind and heart and attune yourself to a higher reality. In deep stillness, you establish an expanded sense of connection with yourself and with life all around you.
By becoming stronger and more complete in yourself through meditation, you will discover that your happiness does not depend on outer conditions such as people, things, or circumstances, but rather on how you inwardly choose to respond to life.
Thus, there is no aspect of your life that cannot be improved by meditation, whether it be in work, relationships, health, or developing any personal quality, such as willpower.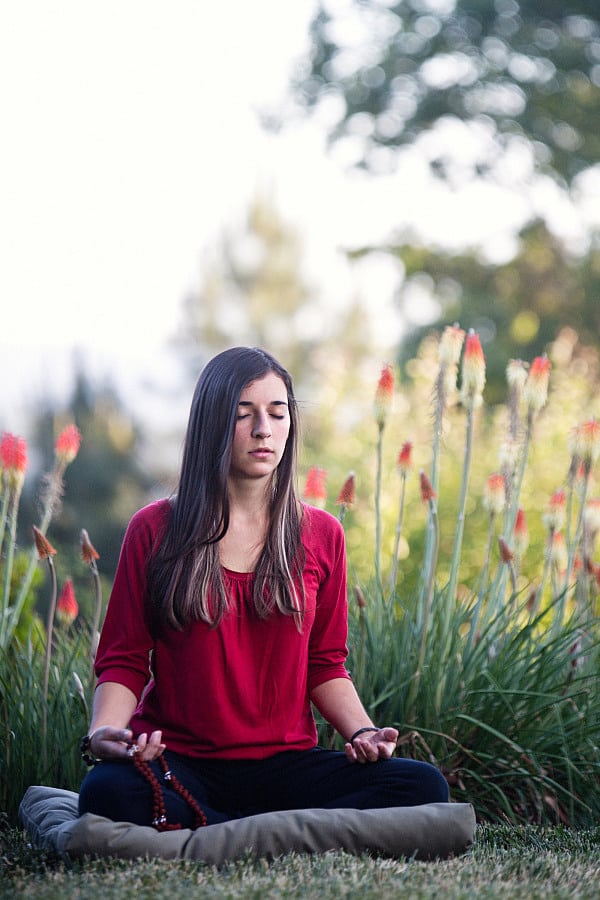 Learn how to meditate properly with this simple three-step process:
Relax

completely, both physically and mentally

Interiorize

your mind and concentrate one-pointedly, usually at the point between the eyebrows.

Focus your concentrated mind on an aspect of your deeper self or of God, such as love, joy, or light. This will help to naturally expand your consciousness.
Although you can certainly teach yourself meditation with the video, this how to meditate step-by-step process is not so easy to put into practice! The restless mind can be difficult to tame. It is very helpful for any meditator, whether a beginner or an experienced practitioner, to seek out guidance and support from skillful meditators. Ananda, as a worldwide community of daily meditators, is here to support your meditation journey.
Meditation is simply the science for being a better and healthier version of yourself. When you meditate you are actively stimulating the neurons in the prefrontal lobe, the most advanced and evolved part of the brain.
At the same time, you are decreasing activity in the limbic system, the most primitive portion of the brain responsible for the fight or flight response. With meditation you rewire the neural pathways in your brain to access higher consciousness. 
Why Learn to Meditate with Ananda?
Taught to our founder, Swami Kriyananda, by his guru, Paramhansa Yogananda, our meditation techniques are focused on the breath and don't require any belief system to practice.
Ananda's meditation techniques are simple to learn, but powerfully transformative. The most basic technique can be learned in a few minutes, while the most advanced one, Kriya Yoga, requires about a year of preparation.
Our Ananda meditation teachers have been sharing meditation around the world for more than 50 years, giving classes, workshops, retreats, and writing books.
Our 10-week online Ananda meditation class Ananda Course in Meditation has helped thousands of people learn how to meditate properly and maximize meditation as a tool for outer and inner success. 
What Are Ananda's Meditation Techniques?
The meditation techniques that Ananda teach are part of the Path of Kriya Yoga as taught by Paramhansa Yogananda.
The Path of Kriya Yoga is a comprehensive spiritual path to Self-realization that offers scientific methods of energy control to help the spiritual seeker take charge of their own life and happiness and achieve union with God.
Yogananda's set of exercises for recharging the body battery and mastering your life force for radiant health, mental vitality, success and Self-realization.  
An ancient meditation mantra technique to help you still the mind, calm the heart and tap into the inner peace and joy within.
A tremendously powerful meditation technique that helps you commune with the cosmic vibration AUM as an expression of God in the form of sound. 
The most effective and best meditation technique for accelerating spiritual growth, transcending karma and realizing God. Yogananda described Kriya Yoga as "the jet airplane route to God."
Solutions to Common Meditation Challenges
Most people experience similar obstacles as they first learn how to meditate and even when they've meditated for years. Here are some solutions to popular meditation challenges:
Ananda Course in Meditation
A 10-week online meditation course with a structured curriculum and caring instructors designed to help you learn to meditate with joy and to build a meditation practice that works in your daily life.
This course is also the preliminary step toward receiving Kriya Yoga, Yogananda's airplane route to achieving Self-realization. 
The instructors were absolutely delightful, they all demonstrated great kindness and patience...I encouraged others to do it because they would learn both coping skills and life enhancing tools to last a lifetime. I have been meditating off and on for over 40 years however the joy, increased energy and focus I gained is immeasurable. It's the best meditation course by far. I am filled with gratitude. THANK YOU!!
TAKE THIS COURSE. No matter where you are in meditation - whether you are a beginner or have been practicing for years - you will benefit
The live sessions you offered were very useful, twice a week, and a lot of written material. My practice really deepened a lot and became a lot more joyful. The best meditation course I've ever done.
Before taking this course, I had been through a couple of different spiritual practices but it was here that I learned how to meditate properly, the true meaning of prayer and how to connect with the Divine. I found the wisdom and the messages shared through the lessons, videos and the live webinars each week truly inspiring and I could see the difference in the length and the essence of my meditation with each passing week. But what made this course truly worthwhile were the amazing teachers. From going over the lessons, sharing words of wisdom and singing chants that deeply touched the heart in the live webinars to giving personalized feedback on the quizzes, encouraging responses to our questions and sending humorous but inspiring emails throughout the week, the teachers motivated us each day to keep going, to keep moving forward and not to give up.
I am grateful to have found this course at a time when I feel ready to absorb its powerful lessons. It is brimming with important information on how to meditate deeply and effectively and, at the same time, it gives very practical guidance on how to explore our own direct experience.
This course is excellent whether you are a beginner or have meditation experience. The pace of the course is doable and not rushed. I highly recommend it if you want to learn how to meditate and or dive deeper into your current meditation practice.