Swami Kriyananda's Birthday Concert
Live International Concert Celebrating the Birthday of Ananda's Founder
---
---
Join us Wednesday, May 19th (U.S. time) for an international brotherhood concert broadcast live in honor of Swami Kriyananda's birthday.
Live broadcast at:
May 19 7:30 pm PDT
May 20 02:30 GMT
May 20 08:00 IST
Learn More
A Call for Prayers
from Nayaswami Jyotish and Nayaswami Devi, Spiritual Directors of Ananda
---
---
We invite you to join forces in sending dynamic healing vibrations to India and other countries which are right now facing the brunt of the Covid-19 pandemic….
Ananda is dedicated to the belief, born of experience, that you can live in joy. We teach effective techniques for expanding your sense of self, such as meditation, Kriya Yoga, spiritual Hatha Yoga, and divine friendship.
More About Ananda
---
Be a Warrior for the Light
Now is the time to bring light and positive energy into the world — it's needed today more than ever.
Watch this video from Nayaswami Jyotish and Nayaswami Devi, along with Dr. Peter van Houten, to learn what we can do on all levels — spiritually and physically — to be safe and help the world.
You can also read this letter to all of Ananda. And for more medical information, see this informative video on COVID-19.
"God's light is within me and around me. With the sword of faith in my hand, with the love of God in my heart, I am a warrior of light. I join my brothers and sisters everywhere to overcome fear with faith, hatred with love, and disease with health. We all are warriors of light. We fill the world with God's light."

Live sessions every day (listed in India Standard Time). Join your energies with others to bring more light, more solace to our loved ones, to our larger family, and to the entire world.
Learn More

Every Thursday at 8:00 am PDT / 5:00 pm CEST / 8:30 pm IST, Ananda centers in the U.S., India, and Italy host a gathering to meditate, affirm, and visualize light and harmony in the world.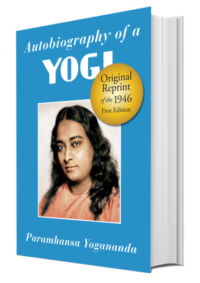 Paramhansa Yogananda has been called the father of yoga and meditation in the West. His Autobiography helped spark and inspire a spiritual revolution across the world. Among the over three-hundred (influential spiritual voices) I interviewed about their key spiritual influences, a high percentage named a book, and by far the book most often mentioned was Yogananda's unique memoir.Phil Goldberg, American Veda
Learn to Meditate
Meditation is a technique for personal growth that has been practiced for thousands of years around the world with repeatable results. There is no aspect of your life that cannot be improved by meditation, whether it be in business, relationships, or health. The highest purpose of meditation, however, is to discover your Highest Self.
We offer a free, five-day email series for a basic overview of how to meditate, specifying posture options, where and when to meditate, and a simple, effective technique. Signup includes a subscription to our weekly newsletter of inspiration and events.
---
Online Course: Ananda Course in Meditation
Whether or not you are new to meditation, this course will help you develop a deep and consistent practice. With ample feedback from meditators with decades of experience and your own persistence, you will awaken your true nature: a pure reflection of divine peace, joy, and love.
Ananda is known for its expertise in meditation, and for almost 50 years has trained teachers in techniques grounded in the highest yogic practices of India, as brought to the West by Paramhansa Yogananda.
Find Upcoming Course Dates and Enroll
Kriya Yoga
Kriya Yoga is an ancient meditation technique of energy and breath control, or pranayama. It is also a comprehensive spiritual path of additional meditation practices and guidance for living.
The Kriya technique is given through personal initiation by one of our Kriya Yogacharyas. Initiation requires preparation through practice of other meditation techniques and study of Paramhansa Yogananda's teachings.
Learn More
---
Community
Let us join together in this wave of social transformation, and through our practice of meditation create a spirit of global unity that can lead to lasting peace.Nayaswami Devi
Ananda Music Oral History Videos
From Nayaswami Jyotish, Nayaswami Devi, Bhagavati and Ramesha Nani, Jeannie Tschantz and more...
Capture the essence of living and sharing the music of Ananda.
Listen to longtime devotee musicians share their stories and remembrances of spiritual lessons learned from working on the songs and chants of Swami Kriyananda and Paramhansa Yogananda.
Thank You, God – Tithing as a Spiritual Practice
Tithing is a spiritual practice, a conscious expression of gratitude given without condition to the source of your inspiration– God. We invite you to try it. Hear the stories of others but test this teaching in your own life and see what transpires.
Learn More About Thank You, God
Your support is a blessing for all
Ananda is a beacon of light, breaking through the darkness of this world with the universal teachings of Self-realization.
Thank you for being a part of this community of souls who support each other on our path to God.
Donate Now