Ananda Meditation®
Teacher Training Online
Online: Jan 24 - Apr 6, 2024
Ananda Yoga®
Teacher Training Online
Online: Sept 8, 2024 - Feb 23, 2025
The Ananda School of Yoga & Meditation® offers high-quality, spiritually-focused professional teacher trainings that empower individuals to deepen their own lives and to support others in an expansive way.
Learn to practice and teach a broad spectrum of meditation and yoga techniques that address all levels of being: body, mind and soul.
Keys to The Bhagavad Gita
Online: Feb 22 – May 17, 2023
with Nayaswamis Gyandev & Diksha
The Gita is a treasure trove of practical tools for the spiritual life. This course will help you apply those tools to your own life, aided by Paramhansa Yogananda's powerful Gita insights.
Ananda Spiritual Counseling Training Online
Online: Apr 5 - May 17, 2023
This training will enhance your interpersonal skills as you learn to listen actively, respond with clarity, open the doorway for superconscious understanding and solutions, and help you guide others to find their own solutions.
Ananda Yoga®
Teacher Training
In Person (California): July 2 – 30, 2023
with Melody Hansen & Darshana Moore
Located in the beautiful foothills of the Sierra Nevada Mountains at Ananda Village, our month long teacher training program offers you an opportunity to live in spiritual community, dive deep into Ananda Yoga, and develop a deep connection with your Higher self.
Ananda Yoga®
Assistantship
In Person (California): July 2 – 16, 2023
with Melody Hansen & Michele Tsihlas
A 13-day residential course of lecture, discussion, and daily opportunities to practice verbal, visual, and touch assists. Help your students deepen their asana practice by better understanding their body mechanics so that they can self-adjust, relax more consciously, and deepen their awareness of subtle energy.
In Person (California): Sept 3 - Sept 10, 2023
A powerful week encompassing extensive practice of advanced breathing techniques, bandhas, mudras, and hybrid techniques and deeper exploration of the chakras, astral body and energization exercises. 
Online: Oct 4 – Nov 18, 2023
with Nayaswamis Gyandev & Diksha
Experience the very essence of Yoga with Ananda's unique approach to the Yoga Sutras. You'll go beyond philosophy to understand more deeply how to access the higher realms of consciousness—and begin to do it. Paramhansa Yogananda's action-oriented teachings will give you the practical tools to get there.
Restorative Ananda Yoga® Online
Online: Oct 18 - Nov 22, 2023
Whether you plan to deepen your understanding of restorative yoga or teach it to your students, this comprehensive online course will help you gain the knowledge–through experience—of the healing power of restorative yoga!
Ananda Meditation® Teacher Training Online
Online: Jan 24 - Apr 6, 2024
with Nayaswami Gyandev & Nayaswami Diksha
Dive deep into classical meditation in the tradition of great master, Paramhansa Yogananda. Join our dynamic and diverse learning community, where you'll discover new dimensions of your own meditation practice as you help others build theirs.
Asana Intensive for Yoga Teachers
Online: Mar 10 – Apr 21, 2024
In this engaging, hands-on course, you'll broaden and refine your understanding of Ananda Yoga as you explore the 25 Level 2 Ananda Yoga postures, which include both advanced asanas and basic asanas not covered in the Level 1 YTT.
Ananda Yoga® Teacher Training Online
Online: Sept 8, 2024 - Feb 23, 2025
with Melody Hansen and faculty
A transformative 20-week online experience to expand and share your light with Ananda Yoga. Join an international community of fellow truth seekers to practice, live and share yoga. 
Bridge to Ananda Yoga® Online
Online: Sept 8 – Nov 9, 2024
with Melody Hansen and faculty

If you're looking for something deeper in your own practice and would like to offer more than just a physical experience to your students, transferring to Ananda Yoga may be the right step for you.
The Bhagavad Gita: Bring Its Power into Daily Living
Online: Oct 9 – Nov 23, 2024
with Nayaswamis Gyandev & Diksha
The Gita is a treasure trove of practical tools for the spiritual life. This in-depth course, will help you apply those tools to your own life, aided by Paramhansa Yogananda's powerful Gita insights.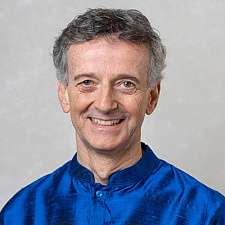 Nayaswami Gyandev McCord is the Director of the Ananda School of Yoga & Meditation. Gyandev has an advanced certificate in online teaching methodology, is the Director of Ananda Yoga worldwide, and is a co-founder of Yoga Alliance.
A member of the teaching staff at the Expanding Light Retreat for more than 30 years he is well known internationally for his profound ability to share the teachings of yoga asana, meditation, yoga philosophy, and the joy that comes from living a yogic lifestyle.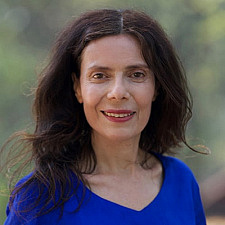 Nayaswami Diksha McCord is a senior faculty member of the Ananda School of Yoga & Meditation in Northern California, serving as the Director of the Spiritual Counseling Training, and as co-director of the Ananda Meditation Teacher Training program online. She has been meditating for more than 30 years, and training meditation teachers for more than 20 years.
A powerful and dynamic woman of great warmth and humor, she is gifted in both intelligence and intuition. Diksha brings a broad background to her teaching—from physical wellness to Ayurveda to profound spiritual understanding. Above all, she awakens in her students their own inner wisdom and the will to make positive changes in their lives.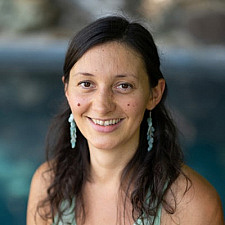 Melody, E-RYT 500, directs the Ananda Yoga Teacher Training and Restorative Yoga Teacher Training online programs. She is a Certified Ananda Yoga Therapist, C-IAYT and a trained Prenatal Yoga Instructor.
Melody has been practicing the teachings of yoga since the age of 14, and began teaching at age 17. She loves to help her students experience the depth of Ananda Yoga and Meditation.
She will be the main asana instructor for this course and will support you every step of the way in becoming a confident yoga teacher. It is her joy to serve you!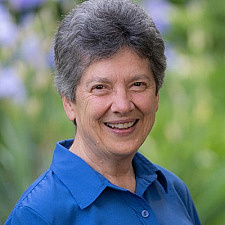 Mangala has a background in a variety of healing modalities including Nursing, Ayurveda, Yoga teaching and Yoga Therapy practice and teaching.
She currently serves as the Director of the Ananda Yoga Therapy Training program. She has been a RN, Nurse Practitioner for many decades and has been involved in assisting residents of Ananda Village for over 30 years with health and illness-related situations, and also with the process of dying.
She also serves as a teacher, spiritual counselor and minister. She enjoys helping people to find positive ways to cope with and even thrive with challenges presented by illness and dying. Mangala is an Ananda minister.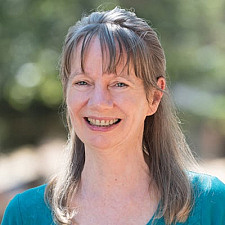 Maitri, E-RYT 500, directs the Online Ananda Yoga Assistantship program, Holistic Health Retreats and teaches in the Yoga Teacher and Ananda Yoga Therapy Trainings. She is a Registered Nurse, Yoga Therapist, C-IAYT and an Ananda Minister.
Maitri first started practicing yoga and meditation as a teenager and has continued as a disciple of Paramhansa Yogananda for many decades. She is enthusiastic about sharing these techniques with people of all abilities. 
Rebecca F.
Online Meditation Teacher Training Graduate
I have practiced yoga for 14 years, and taken many yoga teacher trainings in the past few years, some local, and some from very well-known teachers. I have taught a few classes. And now I choose this extended time of learning as a personal seeking, immersing myself, at this point in my life. Ananda Meditation Teacher Training (and Ananda Restorative Training) have exceeded my expectations. Ananda is extremely organized, thorough, and comprehensive. Even though the trainings were completely online, the instructors (Gyandev and Diksha) were very accessible. No detail is left out. I learned a lot about online technology as well. I highly recommend Ananda OMTT.
Jesse
Ananda Yoga Teacher Training (In-Person) Graduate
I knew that my time in the Ananda Yoga Teacher Training (AYTT) course would be life-changing...The people in the course were amazing, and all of The Expanding Light facilitators were incredible...My testimonial to this is that I am going to pass it on. I am so inspired to give back, because what I have received here is too much for me to keep locked inside of me. I leave here with open eyes and an open heart, and with overflowing joy.
Chantelle H.
Ananda Yoga Teacher Training (Online) Graduate
I give the Ananda Yoga Teacher Training a 5 star rating because I got so much more out of it than I was expecting from a teacher training course. This course was put together so thoroughly and thoughtfully. It was laid out in an easy to use manner and the content went above and beyond what was required. I feel confident to go out and teach safely and effectively now. This was a life changing experience that I will hold close to my heart for the rest of my life.
Brooke W.
Online Spiritual Counseling Graduate
As usual, this course was presented with a high vibration. Deep aspects of Yogic mysticism are made relevant and useful with Diksha's practical suggestions. Energy tools, affirmations, meditation, inspiring reading and resources to support anyone with questions about life have been curated to meet any need, including those delicate passages of illness, dying and death. I will be able to accompany my long-term client through her dying process with more cosmic light and comfort as a result of this course. Thank you!
Andreas S.
Bridge to Ananda Yoga Graduate
I am very thankful, that I have found this course. I gained all the knowledge that I need to confidently teach Yoga and I absolutely love the Ananda-Way of teaching it. The Teachers are super nice and very skilled. The atmosphere was uplifting and great, and I really enjoyed being in the group. Although the course was Online, it almost felt I was there in person. I already started teaching a small group of friends, and they also love Ananda Yoga. I always wanted to learn yoga, not just to have a healthy body, but also to grow spiritually. Here I learned how to use Yoga for my spiritual growth. I thank everybody from Ananda Yoga for the great service and the wonderful knowledge they share.
Bhakti R.
Restorative Ananda Yoga Teacher Training Online Graduate
Online restorative yoga training met and exceeded my expectations. I was impressed with how well the course flowed, and now I feel competent to be able to offer restorative yoga to students. Also as a mother of a young child this was an excellent opportunity to study because I could work at my own pace throughout the weeks around my time with my child and because I would probably not have been able to do the training if it was in person.
Latha G.
Living the Yoga Sutras Graduate
This course, 'Living The Sutras' , true to its title, goes way beyond a study of Patanjali's Yoga Sutras and inspires you to examine your life and make practical shifts that uplift your consciousness. The curriculum is comprehensive; the faculty are deep into the teachings over several decades. Their wisdom shines through in how they present the instructions, guide the students and inspire you to go deeper into these timeless teachings. Additionally, you are enriched through several peer learning opportunities with an international cohort and thoughtfully designed intensive discussion boards and in-class small group interactions. A transformative journey with the Sutras!