Ananda Spiritual Counseling® Training Online
Be a Channel of Higher Consciousness for Those in Need
Join Nayaswami Diksha for this one of a kind course exploring the art of Spiritual Counseling. Spiritual counseling is different from psychological counseling. It's about counseling others from a space of uplifted consciousness in order to help them find deep, personal understanding and direction.
This training will enhance your interpersonal skills as you learn to listen actively, respond with clarity, and open the doorway for superconscious understanding and solutions. You'll explore spiritual skills and effective communication principles that will help you guide others to find their own solutions.
Tuition: $675
Enrollment is now closed 
"I would highly recommend this course to anyone who wants to help others to discover their highest potential so that they can overcome their issues and grow."
"I would highly recommend this course to anyone who wants to help others to discover their highest potential so that they can overcome their issues and grow."
Why Take Ananda Spiritual Counseling Training?
This course is based on the teachings of Paramhansa Yogananda. Swami Kriyananda, his close, direct disciple, counseled thousands of people over more than 60 years, always on the basis of Yogananda's guidance and teachings.
From those years of experience, he developed the approach to counseling that serves as the framework for this course.
At Ananda, we have been offering quality training for decades. Now we bring this same dedication online, as we embrace the very best practices of online learning.
You'll enjoy a user-friendly online environment that offers plentiful interaction within a highly engaged learning community, including:
"This course went beyond my expectations. Not only did I learn tools to help others and be of service, but I learned tools I can use to help myself live a life of joy, peace, energy, and upliftment"
"This course went beyond my expectations. Not only did I learn tools to help others and be of service, but I learned tools I can use to help myself live a life of joy, peace, energy, and upliftment"
— Claudia F., 2020 Graduate, OR
— Claudia F., 2020 Graduate, OR
Nayaswami Diksha is a senior teacher in the Ananda School of Yoga & Meditation. She co-founded the Ananda Spiritual Counseling Training course, and co-directs the Ananda Meditation Teacher Training course. Both trainings are offered online.
Diksha has been meditating for more than 35 years, and training meditation and yoga teachers for more than 20 years. A powerful and spiritually dynamic woman of great warmth and humor, she is gifted in both intelligence and intuition. She has shared transformative spiritual teachings across the U.S., and in Canada, Europe, Israel, and India. She now teaches primarily online.
The Sanskrit word, diksha, means "giver of light"— an appropriate name, because Nayaswami Diksha has touched many hundreds of seekers as a teacher, teacher trainer, host of spiritual travels, expert on Ayurvedic wellbeing, and internationally known vegetarian chef and cookbook author.
For more than 30 years, Diksha has practiced Kriya Yoga meditation and lived a dedicated yogic lifestyle at Ananda Village. Her "Nayaswami" title reflects that her life path is one of "positive" renunciation: not self-deprivation or isolation, but a joyful expansion of consciousness and sympathy to embrace all people as her own.
"There are specific skills that make one a good counselor, and what brings them all together is the most important skill of all: intuition. You must be able to tune in — deeply — to another person's reality, understand what their own higher Self is trying to tell them. It's not magic. All of these skills can be developed, and it's been my joy over the years to help many trainees do that, so they can provide this great service to others."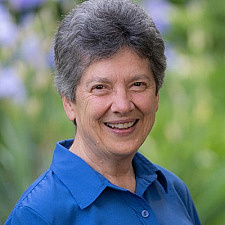 Mangala has a background in a variety of healing modalities including Nursing, Ayurveda, Yoga teaching and Yoga Therapy practice and teaching.
She currently serves as the Director of the Ananda Yoga Therapy Training program. She has been a RN, Nurse Practitioner for many decades and has been involved in assisting residents of Ananda Village for over 30 years with health and illness-related situations, and also with the process of dying.
She also serves as a teacher, spiritual counselor and minister. She enjoys helping people to find positive ways to cope with and even thrive with challenges presented by illness and dying. Mangala is an Ananda minister.
Meet Your Course Assistants
Trimurti supports students in online courses by sharing his long-time meditation and counseling experience.
Trimurti served as the Director of the Karma Yoga Ashram Program and is on the Staff at the Expanding Light Guest Services. He is a Kriyaban and an Ananda Minister.
Hansa is an Ananda Minister and lives at Ananda Village. Before moving to Ananda Village, she was the Spiritual Director of the Ananda Tucson Center where she taught various courses that focused on the practical application of yogic teachings in daily life.
As a spiritual counselor, Hansa has helped many people find uplifting and empowering approaches to life's challenges.
Suzanne and her husband Koral live near Ananda Village. They are kriyabans and active members in the Ananda community. Suzanne is a certified Ananda Yoga & Meditation teacher as well as a spiritual counselor.
With her background in nursing, she uses her skills as a spiritual counselor to assist people in seeing the spiritual component of coping with and navigating health challenges.
Bev is a Kriyaban, and has been an Ananda Meditation teacher since 2013. She teaches meditation classes both online and at a local library.
Since completing the Ananda Spiritual Counseling course, she has counseled others, and assists students in learning this valuable skill.
Pasqualina had a long and varied career as an educator and currently is a householder yogini raising teenagers.
She is a Kriyaban and serves mainly at the Ananda Center in Rhode Island, U.S. where she teaches meditation and yoga and various classes on the teachings of Paramhansa Yogananda.
She also offers spiritual counseling as part of her service and assists with Ananda online trainings.
Jeff is a Kriyaban and an Ananda meditation teacher. He also completed the Ananda Spiritual Counseling course
He enjoys teaching meditation both online and at a local yoga studio. Jeff has a career as an educator in health and fitness, teaching Exercise Therapy and Mental Toughness, where his spiritual counseling knowledge is highly beneficial.
Visnja is a Kriyaban and a spiritual counselor.  She completed both the Meditation Teacher Training and the Spiritual Counseling Training.
Her background is in physiotherapy, yoga and massage therapy. Through those practices combined with meditation she has overcome a difficult illness.  Her experiences have inspired her to support others in their life journey.
Vasiliy is a disciple of Paramhansa Yogananda, and is a graduate of both Ananda Meditation Teacher Training and Ananda Spiritual Counseling. He teaches meditation online and at the drug rehabilitation center where he works full-time. He uses many of the techniques he learned in the Spiritual Counseling course when counseling clients to help them overcome their addiction.
"I highly recommend this course to anyone who is looking to be of service to others or to deepen one's own spiritual practices. …This course has exceeded all my expectations."
"I highly recommend this course to anyone who is looking to be of service to others or to deepen one's own spiritual practices. …This course has exceeded all my expectations."
The facilitators of this course are role models for me to be a clear channel for Divine Mother. This course addresses that and assists in self-healing and self-understanding that is needed to provide Spiritual counseling to others. All this made this course a special experience for me as if it was completely tailored to my personal growth in every phase of the course I was in...
A very rewarding course that presents wonderful techniques to developing intuition, listening with your heart, and being an effective conduit for Spirit to flow through and help others to find their own solutions. Well structured, complete, and thoughtfully presented, this course teaches a skill that is becoming more needed with each passing day, and will be very beneficial to many.
I highly recommend this course. It was very inspiring and allowed me to look at practices in my own daily life, as well as teaching me aspects of spiritual counseling, intuition, consciousness and spiritual living. It was well organized and thoughtful. The support and kindness of the instructors and other students was felt like a warm, compassionate, caring community.
Such a great course that not only helps you develop and refine your counselling skills, but focuses on your own spiritual development and intuition as the foundation for helping others. You will learn about how calmness and emotional centeredness are essential for good counseling, how active listening is a key, and how to get yourself out of the way to become a channel for Divine guidance, love, and wisdom. Very powerful!
As usual, this course was presented with a high vibration. Deep aspects of Yogic mysticism are made relevant and useful with Diksha's practical suggestions. Energy tools, affirmations, meditation, inspiring reading and resources to support anyone with questions about life have been curated to meet any need, including those delicate passages of illness, dying and death. I will be able to accompany my long-term client through her dying process with more cosmic light and comfort as a result of this course. Thank you!
This course has very good methodology and structure from the one side and it is very intuitive and hearted from the other. It gives practical tools for mind and heart for doing spiritual counseling. After the course one have clear idea and an experience how to do counseling session (both formally and informally). It was a blessing to participate thee course, especially in these difficult times of pandemic when people have a lot of challenges. Thank you to do it online, so I had an opportunity to join it from Russia.
This was my first experience with a program with Ananda, & I can only say, it wildly exceeded any expectations I had of what was possible! Diksha & the Ananda teachers have artfully blended the timeless teachings of Yogananda & contemporary human development that integrates the mind, body & soul. I felt a palpable shift in my beingness during the six weeks, and the ultimate testimonial is that my husband & friends noticed it, too. Being with a cohort of people committed to being divine channels to receive & shine God's light was such a gift to me & how I hope to serve in this lifetime. My deepest appreciation to Ananda!
What is Intuition and How Can You Recognize It?
Aids and Blocks to Intuition
Personal Inventory on Levels of Consciousness
How to Receive Guidance in Meditation
Understanding Levels of Consciousness
Deeper into the Levels of Consciousness
Recognizing Each Level of Consciousness in Ourselves & In Those We Counsel
The Essence of Spiritual Counseling
Principles of Spiritual Counseling
How to Listen & Ask Questions
Introduction to Energy Tools
Techniques to Work with Emotions
How to Use Energy Tools in Counseling:

Direct Energy Upward
How to Receive Higher Guidance
Fill Yourself with Light
Cultivate Faith
Expand Your Light
Tips for Dealing with Illness & Dying
How to Help a Dying Person
Coping with Grief
Building a Spiritual Foundation
Living Intuition
Ananda Spiritual Counseling Training Online
Connect with divine wisdom and help others find solutions!
Dates: Spring 2025
Tuition: $675
Under a temporary provision made by Yoga Alliance, the online version of Ananda Spiritual Counseling Training will qualify for credit toward Level 2 Ananda Yoga Teacher certification. It will also qualify as 36-hours of in-person continuing education hours for RYTs.
Provider approved by California Board of Registered Nursing, Provider Number 10747, for 36 contact hours.