Yoga Practices Help Manage the Effects of MS
Ananda Yoga® for Multiple Sclerosis, A Research Study
Completed in May 2008
With approximately 400,000 people in the US affected by Multiple Sclerosis, it is little wonder that many of us find our lives being touched by this disease of the nervous system through personal experience, family or friends.
In early 2008, The Expanding Light co-sponsored a research study of Ananda Yoga for Persons with Multiple Sclerosis. The purpose of the study was to investigate the effects of an Ananda Yoga routine on various aspects of day to day functioning and quality of life in individuals with Multiple Sclerosis (MS).
Results of the study showed encouraging positive results on many fronts, including improvements in balance, strength, anxiety, depression, feeling of vitality, concentration and sense of well being.
Many people are searching for non-medication based techniques to manage symptoms and gain a sense of personal empowerment when facing the uncertainty and fear that often accompanies the diagnosis of a neurological disease.
Experience for yourself how Ananda Yoga can be an effective technique to balance and strengthen the nervous system, body, mind and spirit.
Improving Quality of Life with Ananda Yoga
Recent research in Rome showed that Ananda Yoga practice can decrease fatigue, anxiety, depression and improve quality of life for those with Multiple Sclerosis (MS).
Italian researchers also saw improvements in participant's functional abilities – but did not measure this. This latest clinical trial in 2008 took the next step, and included the investigation into yoga's effect on the physical capacities crucial to maintaining an active and fulfilling life.
Pariticipants diagnosed as being in the early stages of Multiple Sclerosis were taught Ananda Yoga techniques that:
increase vitality
boost energy
develop mind / body awareness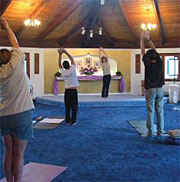 In-depth and Individualized Instruction
The first day included pre-intervention measurements to evaluate strength, endurance, fatigue, pain, respiratory function, mood, sleep and quality of life.
Participants received in-depth and individualized instruction in the components of an Ananda Yoga routine, including:
Energization Exercises (a unique series of exercises that combine deep breathing, isometric contraction, and mental focus to increase body awareness and neuromuscular coordination)
Yoga Postures
This routine was adapted to the specific needs of individuals with MS. During the 5-day yoga workshop each participant gained knowledge and tools to guide his or her practice at home with the aid of a DVD and written handouts. Telephone follow up and consultation was provided during the 16 weeks of home practice. Post intervention evaluations were done 16 weeks later.
About the Co-sponsors
The Sierra Family Medical Clinic is well known for its pioneering work in creating integrated health programs in a rural family practice setting. Founder / Medical Director of the Clinic, Peter Van Houten MD and Gyandev McCord PhD, Director of Ananda Yoga at The Expanding Light have co-authored two books on the use of yoga for health problems. Now they are combining their expertise again by offering this research study.
California State University Sacramento, Bryan Coleman Salgado, PT, DPT, MS, CWS Academic Coordinator of Clinical Education Dept of Physical Therapy was the chief investigator.
Yoga Teacher Support Center
This is the largest service of its kind to help yoga teachers reach their students on all levels — and it's free. more…
Articles
Q&A