The Book That Sparked a Spiritual Revolution
Autobiography of a Yogi: a first-hand account of the life experiences of Paramhansa Yogananda, a spiritual master, this book has sold millions of copies and is beloved around the world by those interested in yoga and spirituality.
"Imagine Christ, Buddha, or Krishna telling their life story in their own words. That's what you get when you read Yogananda's Autobiography of a Yogi."
—Richard Salva, author
Available in 19 Languages
Explore Autobiography of a Yogi
Stories and Insights From a Spiritual Classic
What Makes Autobiography of a Yogi So Great?
Adapted from an answer on Quora by Nabha Cosley • January 9, 2016
A book about masters of yoga and saints, written by someone who was himself a master of yoga and a saint. This is an unusual and unique book.
Autobiography of a Yogi by Paramhansa Yogananda talks about miracles, the yogic teachings, and the teachings of Jesus Christ in a modern way — a way that is easy to understand and even entertaining. For someone interested in spirituality, or even just alternate ways of looking at life, it's incredibly illuminating.
The world is a different place than it would have been without this book. The New Age movement in the West, the impact the book has had on leaders in many fields, and the rise in the practice of yoga and meditation are due in large part to Yogananda's influence and the influence of his autobiography.
Philip Goldberg wrote in American Veda that "Among the people I interviewed about their key spiritual influences, a high percentage named a book, and by far the book most often mentioned was Yogananda's unique memoir. A distant second was Be Here Now by Ram Dass, and he mentioned the Autobiography."
Sometimes people read it and have their life turned around entirely. It's a book that, like other scripture, inspires life-long devotion.
Anyone who is interested should read it. It is a great book in every sense of the word.
"As a bright light shining in the midst of darkness, so was Yogananda's presence in this world. Such a great soul comes on earth only rarely, when there is a real need among men."
The Shankaracharya of Kanchipuram
"The greatest book I ever read."
Swami Kriyananda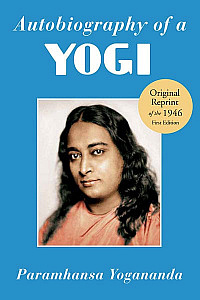 This is the original edition of Autobiography of a Yogi, just as Yogananda wrote it, without the hundreds of changes made to editions published after Yogananda's passing in 1952.
Utmost care has been taken to make this the most accurate reprint ever published.
Ananda Meditation App
A free app with guided meditations and techniques, based on the teachings of Paramhansa Yogananda. Go deeper in the joy of your own Self.
Download the app
---
Start a New Meditation Practice or Inspire Your Current One
The 10-week Ananda Course in Meditation online course is designed to provide in-depth instruction in scientific meditation techniques that bring more peace, deeper relaxation, and focused concentration to every area of your life, regardless of outer conditions.
These techniques are based on the teachings of Paramhansa Yogananda, author of Autobiography of a Yogi.