Ananda Course in Meditation
Learn Paramhansa Yogananda's Scientific Meditation Techniques
Whether a beginning or experienced meditator, take this meditation class to develop or deepen your daily meditation practice and connect with your higher Self.
Next Session: Jan 11 to Mar 21, 2024
Cost: $129.95
The Powerful Tool of Meditation
Daily meditation helps us overcome our limitations and achieve our highest potential. Meditators worldwide testify that meditation helps transform commonly experienced emotions such as stress, fear and anxiety into the peace, calmness and joy. Regular meditation also naturally enhances our concentration, energy levels and creativity.
For the past 50 years, Ananda has taught Paramhansa Yogananda's meditation techniques that show us how to attain optimal wellbeing on all levels: physical, mental, emotional and spiritual.
With our Ananda Course in Meditation (formerly Lessons in Meditation) you, too, can learn to meditate deeply and consistently and can reap all the benefits of a vibrant meditation practice.
"If you are looking to understand the principles of meditation and be given the structure and tools to put them into practice with ease, then this course is for you!"
Why Take This Meditation Class?
Make Daily Meditation a Reality
Our 10-week online meditation class is structured to guide you step-by-step through the various tools and meditation techniques you need to create a sustainable practice.
Weekly assignments and inspiration will help you build a routine that works for you.
Receive Caring Support from Experienced Instructors
We all face unique challenges with our meditations.
Your instructors are there to answer your questions, to offer individual feedback, and to encourage you as you learn to meditate or deepen your existing practice.
Learn Meditation Techniques for Self-Realization
These universal scientific techniques taught by Paramhansa Yogananda are for mind, body, and soul healing. But most of all, they will help you connect with your higher Self, the Divine, or God.
These meditation lessons are also the first step toward learning Kriya Yoga, Yogananda's highest technique for Self-realization.
Join a Worldwide Community of Truthseekers
With our cohort model, you will go through the course and meditate online with like-minded classmates from all over the world.
Upon completion of the course, you will also receive a free one-month membership with Ananda's Virtual Community.
"It is an amazing value for the price and I now have so many tools to help me keep on my meditation path and to deepen my spiritual life. I am so thankful to Online with Ananda who have made it possible for me to learn, even from deep in the rainforest, and feel connected!"
Week 1: Learn to Meditate: The What, When and How of a Consistent Meditation Practice
Week 2: Learn to Relax
Week 3: Interiorization and the Hong Sau technique
Week 4: Learn to Control Your Energy with Yogananda's Energization Exercises
Week 5: Practices for Focusing the Mind and Heart
Week 6: Expansion and Going Beyond Techniques
Week 7: Bring Meditation into Daily Life
Week 8: Yogic Dietary Principles for Health and Vitality
"I thought going into this course that I could do this all myself and did not need a class if I had the proper discipline. Not true. I needed this class and feel like it came to me at the exact right time in my life."
What You'll Receive in This Meditation Class
"This course has provided patient, compassionate teaching and guidance, persistent encouragement to stay on-track, and powerful tools to assist me in attaining deep states of meditation; these have changed my life, ushering in a calm I had never known before and more joy than I ever thought possible."
"The level of care and support extended by the instructors makes you feel as though you are a part of an extended family who genuinely care about your spiritual growth and well being. . . . There was 100% support from the fully present instructors every step of the way."
Brahmachari Sagar resides in the Ananda Monastery located at Ananda Village in Northern California. Born into a family of kriya yogis, Sagar read Paramhansa Yogananda's Autobiography of a Yogi at a young age, an influence that culminated in his decision to serve Yogananda's mission through Ananda.
Sagar led Ananda's work in Mumbai for about five years and has served Ananda's work in India and the US as a teacher and counselor to students and as a meditation and stress-relief workshop facilitator for corporates.
Sagar currently serves in Ananda's Online Ministry. He is one of the principal instructors for the Ananda Course in Meditation and has helped create several online offerings such as the full-length courses The Yoga Teachings of Jesus, Karma and Reincarnation and the webinars The Anatomy of the Astral Body, Losing the Fear of Death Through the Science of Yoga, and How to Stand Unshaken amidst Life's Challenges. You can read some of his articles here.
Prior to commencing his life of service at Ananda, Sagar was a graduate student with full scholarship at Boston University and holds advanced degrees in Engineering.
Jitendra Guidon, Director of Online with Ananda's Online Outreach ministry, is a disciple of Paramhansa Yogananda living at Ananda Village in Northern California. While serving with Ananda, he enjoys spreading the ancient teachings of Yoga to all truth seekers around the world and look forward to connecting with new friends from different backgrounds and affiliations.
After reading Autobiography of a Yogi by Paramhansa Yogananda, Jitendra began his journey with the teachings and meditation in 2006. He continues to feel the inner transformation that comes with the power of the techniques. He is a certified Yoga and Meditation Teacher with Yoga Alliance (RYT 200).
Jitendra is originally from Rhode Island, where he helped lead the Ananda Yoga and Meditation Center and aided in spreading the path of Self-realization in Boston and New York City. He has taught meditation in diverse settings including yoga studios, colleges, high schools, rehabilitation centers and more.
Suzanne Ilgun was born, raised, and schooled in Santa Barbara, CA. She started studying Ananda's Lessons in Meditation while she was an ICU nurse. Learning meditation and studying the science of yoga was key in her ability to continue working in the high-stress, hectic-paced world of intensive care medicine until she retired from the field in 2006.
Suzanne and her husband Koral now live near Ananda Village in the beautiful Sierra Nevada foothills and are active members in the Ananda community. Suzanne is a certified Ananda Yoga & Meditation teacher. Outside of her meditation and yoga practice, Suzanne enjoys cooking, hiking, and paddleboarding.
Bandhu Kinsey has been a meditator and a member of Ananda since 2007. Living now at Ananda Village in Northern California, he takes part in leading community meditations from time to time. "Chanting is half the battle" says our Guru Paramhansa Yogananda, and Bandhu might want to run that percentage higher, being a musician and classical guitarist . He plays the harmonium and has transcribed some of the chants from there to the guitar.
Bandhu has also served as a P.E. instructor at Living Wisdom High School at Ananda Village emphasizing the notion of the flow of peaceful inner will power toward physical movement.
Ashima Cardona has been a meditator for 34 years and a member of Ananda since 1988. She has served at East West Bookstore in Seattle and for Ananda University online. Additionally, she served by playing the cello and singing in the choir as a part of the Ananda Music Ministry. She has a varied educational background in Social Science, English, Music and Art. Previously, she taught English, Writing, History, and a Leadership class—think spiritual principles in secular clothing—in a local charter high school that she helped to found.
Above all, Ashima has a passion for developing meaningful relationships with students in order to inspire them to develop tools that empower the creation of a joyful life.
Marissa Riojas lives in Folsom, CA. She read Autobiography of a Yogi as a young adult and has tried to grow in Yogananda's teachings ever since. She is a Doctor of Traditional Chinese Medicine and a Wellness Educator & Coach. Before studying medicine, she was involved in social justice advocacy and education.
Marissa has completed Ananda's Spiritual Counseling and Meditation Teacher Trainings and is a member of the Ananda Prayer Ministry. She has spent time at Ananda Village as a seva yogi, serving at The Expanding Light Retreat. She views meditation and the cultivation of higher consciousness as the ultimate form of worldwide healing and service.
Marissa enjoys connecting with the Divine through creative expression, such as art & design, writing, intuitive cooking, and spending time outdoors.
Nayaswami Nefretete lives in Ananda Village and serves in various capacities in the community. She feels blessed to live and share the teachings of this path. She began meditating as a teenager and later became a disciple of Yogananda. She moved to the community as soon as was possible after reading the Autobiography of A Yogi.
Originally from the East Coast, she has a rich and varied background in the arts. She also received her doctorate from New York University and worked in New York City for many years as an artist, educator, and therapist.
"If you are one who has been struggling to find a constant and reliable routine in meditation, this course is for you. If you've been practicing for years but feel that you stall out and hit a wall, this course is for you. If the meaning of life has been lost in worldly pursuits, this class is for you."
Terri Syrpes
December 16, 2021
I can't say enough about this life changing course. The instructors are beyond amazing and truly care. I am constantly in awe as to how they take the time to provide personalised feedback and words of inspiration after each weekly quiz. The supplemental class materials provided weekly are phenomenal. As a trainer in the business world, I am so impressed with the set up, delivery, materials, and follow up support provided. This is my second time taking the class and I will be going through all the materials and lectures again to really absorb the tools and wisdom shared. I want to thank Sagar and all the instructors for all their support, guidance and encouragement during this journey. I now feel like a clear path has been shown to me as to how to properly meditate. You will truly see and feel yourself transform every week.
Rosemary Serluca-Foster
December 14, 2021
My restless mind can behave like a rambunctious toddler! This meditation course is the first one that I have taken where I received experiential tools, techniques and guidance that actually work in helping me to focus, concentrate and finally enjoy the stillness that has alluded me my whole life. Beyond the wonderful meditation and energization techniques, I feel my life forever changed by the teachings of Paramahansa Yogananda and Jesus Christ, which were beautifully imparted in the course. The course gave me a beginning road map for living a spirit-filled life and I am forever grateful. Plus, the teachers are super supportive, engaging and available for guidance throughout the course.
Patricia Gilgallon
September 13, 2021
When I got an email about this meditation course, I signed up on impulse because I was struggling with my meditation practice again. I have been meditating on and off trying different meditation practices most of my adult like, but have never been able to sustain a regular practice over the long term. This course has truly helped me beyond meditating twice a day. The techniques and teachings have deepened my practice and I feel more peaceful and connected to Spirit throughout the day. The teachers are helpful and kind and good at clarifying the lessons. Thank you Sagar, Jitendra, Sambhava. I am grateful for this course and would like to continue further on this path.
Luciana Ogawa
September 6, 2021
Enrolling this wonderful course was one of the best decisions that I took in years! For months I was struggling with anxiety and panic attacks. Besides that also trying to develop a meditation routine. Today both situations are solved! The most important is, that little by little, meditation is growing in our family as a life style. About the teachers, I just have to say: they are the best! Sagar, Jitendra and Sambahva, made all the difference during the path. They are loving, caring, joyful and supportive. Always open to ours questions and give excellent feedbacks! I really recommend this course to those that are looking for inner peace and joy. With all gratitude I'm looking forward to take the next step with Ananda!
Thomas Roy
August 5, 2021
A great course at a great value! I have a regular meditation practice and I like to explore additional ideas and techniques to keep the practice evolving. This filled the bill perfectly for me and I'd recommend it for a beginner or the seasoned practitioner alike. There are also many tools aside from the weekly lessons which makes this a great value for the cost. If you were on the fence in making the decision to join this course, just do it, it's worth your time!
"I have practiced on and off for many years, but this course helped me to really develop a routine practice. The methods help me to meditate more deeply and I've incorporated the other resources and techniques in my daily life. As a result, 10 weeks later, I feel more joy and overall calm."
Transform Your Life in Just 10 Weeks
Why wait to find peace and happiness within you? Join us today to enrich your inner life with a daily meditation practice.
Next Session:
Jan 11 to Mar 21, 2024
Cost: $129.95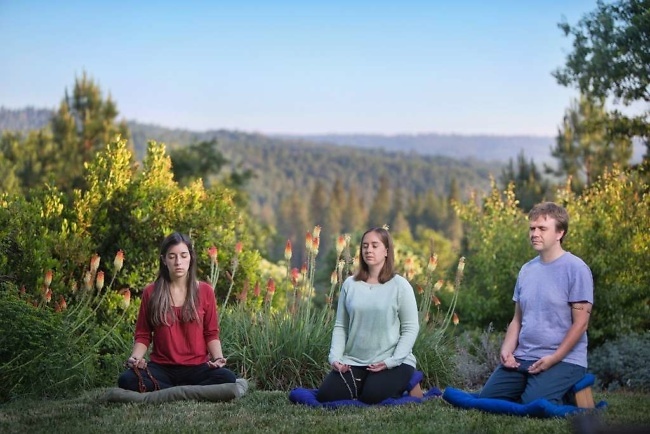 "From the beginning to the end: inspiration, quality and openheartedness! Thank you again for this beautiful deepening of meditation."