…But Why Do I Need a Guru?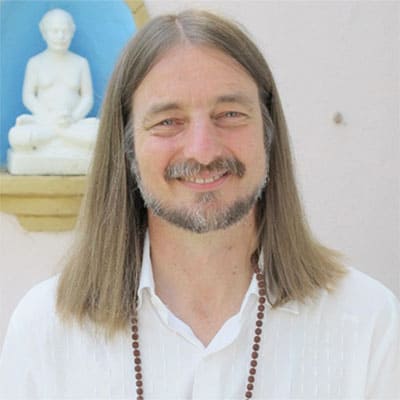 Jayadev, founder of the Ananda Yoga Academy of Europe, teaches Kriya Yoga and is the author of books on Hatha Yoga (Italian), Kriya Yoga, the Chakras (Italian), and related subjects.
Jayadev has trained hundreds of yoga teachers and gives seminars throughout Italy, and leads pilgrimages to the Himalayas and In the Footsteps of the Autobiography of a Yogi.
Articles and Videos
See all
Answers to Spiritual Questions
Dear Kwesi, "Mind chatter" is a very common challenge in meditation: the mind easily spins and spins. For that reason pranayama (breathing and energy control) has been taught for centuries. Yogananda taught, as one example, the triangular breathing technique: inhale,…
Dear NS, Malas (prayer necklaces) are usually used for counting pranayama (e.g. breathing exercises), japa (repeating a spiritual sentence during the day) or mantra chanting. They are usually made of 108 beads. In Ananda's case, we mostly use them for…
Dear Suzi, There are two possibilities: It could be your own mind, your subconscious. If that is the case, please be very careful. If that voice in time begins to tell you to do things, you should consider psychological assistance.…
Dear Anurag, Not at all. Many Ananda members and kriyabans have been vaccinated. Our worldwide spiritual directors Jyotish and Devi have received the vaccination too, giving a clear guideline. Both of them, and also other close friends of Swami Kriyananda,…
Dear Sandrine, During my pilgrimages to India I have visited the Haidakhan Baba ashram myself, right where he is said to have appeared. I know that his devotees consider him to be Mahavatar Babaji. The visit was definitively a powerful…
Dear Zayin, You should go about it in exactly the way you are doing, thinking: "If the hard times become 10 times worse, my blessings will increase 20 times." In other words: "Everything happens for the best, hard times included".…
Dear Falk, The navaratna bangle is not only safe but is highly useful and recommended, in general, for everyone. Swami Kriyananda wore one too. He writes in his book, Raja Yoga: "Pure, unflawed gem stones of not less than two…