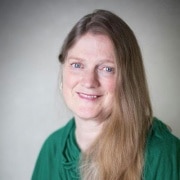 Mary Kretzmann is a minister, the Director of the Ananda Healing Prayer Ministry, and a founding member of Ananda. Mary moved to Ananda Village in 1978, and with her husband, Tim, raised their family of three children. A gifted channel of divine energy and hands-on spiritual healing, Mary has healed many through the power of prayer. In her early years at Ananda, she began to explore Yogananda's healing techniques very deeply with a small, dedicated group who were praying for others. She felt inspired to put more energy into this healing ministry, developing it from its humble beginnings into what is now the Ananda Healing Prayer Circle. She helps beginners learn the practices, and through newsletters and personal guidance, as well as the classes at The Expanding Light, helps those interested to go very deeply into the experience of God through healing prayers. The Healing Prayer Circle has grown to over 750 members worldwide. Mary shares her insights and inspirations through the classes she teaches on Energy Healing Techniques. Many people feel their own healing energy open up during her workshops when given even brief coaching from Mary. Mary has also coauthored a book on Yogananda's prayer techniques called Divine Will Healing. The book contains extensive chapters on healing by Paramhansa Yogananda and Swamiji Kriyananda, in addition to chapters by Mary showing how a person can effectively apply those teachings.
Articles and Videos
See all
Answers to Spiritual Questions
Dear Cortney, I am so sorry for the loss of your best friend who died while in prison. Since you feel that it may have been a suicide, I am offering you this article that I wrote several years ago,
Thank you for your question and for your loving concern for your baby. Your question raises several concerns, and I want to offer to your some practical yet powerful suggestions. Babies, who are fresh from the astral world, can often
Thank you for your question which has several elements, so I will try to answer all of them. Here are some suggestions on how to protect yourself taken from a previous answer on this topic, written by Pranaba: Before going
Thank you for your questions. regarding Hong-Sau — it is a vast topic, but in general it is a technique to develop concentration to take you deeper into that technique, and other spiritual techniques. This Hong-Sau review may answer some
Thank you for your question. It may be "nothing" or it could be an intuition of something that will need healing. Try to spend more time in the next few days seeking to receive further insight, if it is indeed
Thanks for your question, Tanya. Parenthood is a big commitment, and you show spiritual maturity in your recognition of that fact. In the big questions of life, it is good to seek inner guidance. It has been a great blessing
Dear Tania, I am very sorry to read of the many hardships that your family is facing. I will provide you with some Ananda spiritual resources that can help you through these difficult times. Request Healing Prayers for your father.